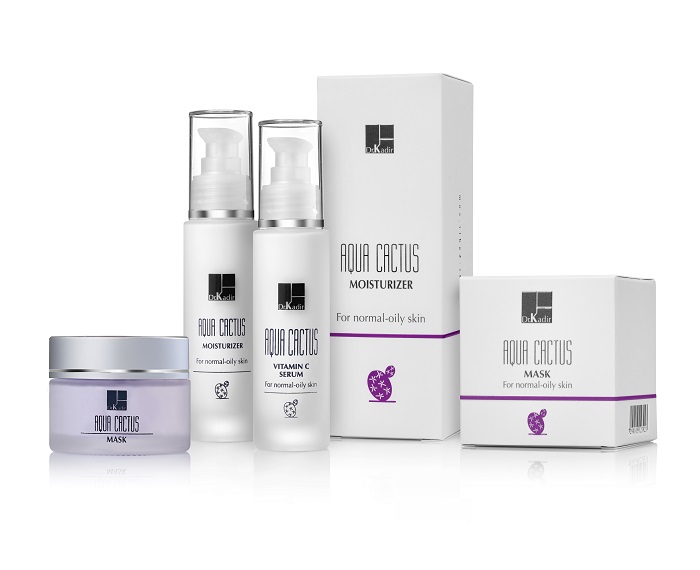 AQUA CACTUS
Aqua Cactus series was specially developed for women over 30 with combination skin type. The T-zone (the forehead, the nose and the chin) in this skin type is oily while in other areas of the face the skin is normal or dry. In combination skin the T-zone area has the tendency towards blackheads, whiteheads, irritation, sunburn, and redness.
In order to offer an appropriate solution for this skin type, Aqua Cactus products are not greasy and not stimulate formation of comedones, hoever, they contain first rate active ingredients for restoration of the skin.
The main active ingredient in Aqua Cactus series is Aqua Cacteen, developed by Mibele biochemistry, Switzerland. This ingredient is obtained from the Opuntia Cactus which have been used in the Mexican traditional medicine for various purposes.

Aqua Cacteen is obtained from the plant by enzymatic processes, extraction and filtration. The extract is rich in flavonoides, polysaccharides, minerals and vitamins. Clinical and laboratory research demonstrated than Aqua Cacteen increases the moisture level of the skin, protect the from irritations and increases the skin's firmness. Using skin sensory neurons tissue culture, it was found that Aqua Cacteen decreases the release of substances associated in inflammation processes and sensation of pain, this may explain its skin calming effect.

The products of the series:

Aqua Cactus Moisturizer: Oil free moisturizing emulsion. Contains sunscreens, Aqua Cacteen and vitamin E.

Aqua Cactus Serum: light oil free structure, contains aqua cacteen together with other active ingredients such as Vitamin E, Vitamin C and beta glucan.

Aqua Cactus Mask: Clay mask which dries exactly at the appropriate level to absorb the excess of the sebum without drying the skin. The mask is enriched with Aqua cacteen and vitamin E and it leaves the skin moistened, soft and glamorous.