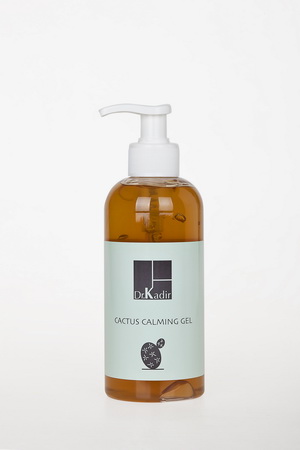 CACTUS CALMING GEL

For skin calming and soothing

After peeling
After Waxing and hair removal
After exposure to the sun
After salon treatment of problematic skin types

The main active ingredient of this gel is Aqua Cacteen
AquaCacteen is an ultra-refined elixir from cactus
(Opuntia ficus-indica).
Aqua Cacteen, developed by Mibele biochemistry, Switzerland. This ingredient has been used in the Mexican traditional medicine for various purposes.

Aqua Cacteen is obtained from the plant by enzymatic processes, extraction and filtration. The extract is rich in flavonoides, polysaccharides, minerals and vitamins.




Clinical and laboratory research demonstrated than Aqua Cacteen increases the moisture level of the skin, protect the skin from irritations and increases the skin's firmness. Using skin sensory neurons tissue culture, it was found that Aqua Cacteen decreases the release of substances associated in inflammation processes and sensation of pain (CGRP*), this may explain its skin calming effect.

Additional active ingredients with soothing effect:
allantoin, calendula extract, aloe vera, panthenol.