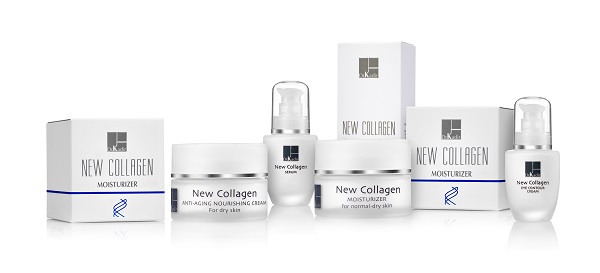 NEW COLLAGEN ANTI-AGING WITH BIO-MIMETIC PEPTIDES
Bio-mimetic peptides are small proteins consisting of several amino acids normally attached to a carrier molecule in order to improve skin penetration and bioavailability.
These ingredients are used as active ingredients in cosmetic products lately due to the progress made in the field of biotechnology.
When these peptides reach the tissue they take part in the communication between cells and may generate specific biochemical signals for processes such as collagen production and tissue repair.
The bio mimetic peptides use in the New collagen series are:
MatrixylTM or micro-collagen® ( palmitoyl pentapeptide-3 )– This peptide boosts the synthesis of dermis components: collagen type I collagen type IV and ground substance components (glycosaminoglycans).
As demonstrated in tissue cultures, skin biopsies and in clinical tests, this peptide restores the structure of the dermis, increases the thickness of the skin and minimizes wrinkles.
DERMAXYLTM (Palmitoyl Oligopeptide) - Clinical test showed considerable improvement in wrinkles depth, volume and density.
These peptides together with other active ingredients make this series a first class modern anti-aging series.
The products:
NEW-COLLAGEN NOURISHING CREAM FOR THE DRY SKIN
The cream contains MatrixylTM and beta glucan (a well established ingredient for minimizing wrinkles). The cream is further enriched with panthenol, squalane and allantoin.

NEW COLLAGEN Moisture for normal-dry skin
This cream contains an effective concentration of MatrixylTM as well as hyaluronic acid, a powerful moisturizer and sun filters.

NEW COLLAGEN SERUM
Advanced emulsion technology enables the development of this unique smooth and velvety texture. This preparation contains a high concentration of "micro-collagen " (MatrixylTM), effective moisturizing ingredients and allantoin for the renewal of the cells. This serum is non oily, absorbed immediately by the skin, and recommended to be used under any moisturizing or nourishing creams.

NEW COLLAGEN EYE CONTOUR CREAM
Cream with a special silky non greasy feel, suitable for many skin types.
The cream contains a novel bio-mimetic peptide, "Dermaxyl" . Clinical test with a group of 24 women showed considerable reduction in wrinkles after treatment of 56 days.This product contains also ceramides, vitamin E and panthenol to improve moisture retention in the skin. Butcher's Broom extract helps to reduce puffiness and dark circles around the eyes.
Before Treatment

After six months treatment
with cearm containing Matrixyl
Before Treatment

After 56 days treatment
with cearm containing Dermaxyl